New Annexation Sought


Developer wants 20 acres included in Town Limits

Vic Bradshaw
Frederick News Post

Just a few months after voters overwhelmingly rejected a bid to enlarge the town by annexing county property, another annexation proposal is headed to Emmitsburg's planning commission.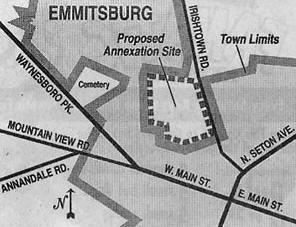 Bollinger Properties LLC is asking to have almost 20.3 acres of land off Irishtown Road brought within the town limits. If approved, it would be incorporated with medium-density residential zoning, allowing the development of up to 77 single-family homes or 103 townhouses, or a mixture of both types of dwellings.
The planning commission meets Monday at 7:30 p.m. in the conference room at the Sleep Inn to consider the request. It will recommend passage or rejection to the town's board of commissioners, which is expected to consider the request at its October meeting.
The annexation isn't the only request Bollinger Properties is making Monday. It also wants to rezone about 8.9 acres that are part of the same tract of land, a parcel lying south of Little Run and within the town's boundaries. If the requested change from low-density to high-density residential zoning is approved, 48 senior-housing units would be built on the land.
Jim Gugel, a planner with the Frederick County Planning Department, said the proposed projects fit well with Maryland's smart growth development initiatives. The proposed uses are compatible with neighboring properties and development plans and new town wells should be brought online soon, he concluded, so he recommends conditional approval of both requests.
Because of annexations approved in the 1980s, the tract Bollinger Properties hopes to have annexed is nearly encircled by the town. David Haller, Emmitsburg's town manager, said only a gap of roughly 50-feet between two parcels prevents the 20-acre lot from being inside the town limits already.
That property lies north of Little Run and adjoins the Brookfield subdivision property. Mr. Gugel said Brookfield's developers plan to seek town approval for higher-density residential zoning for a 10-acre tract of land adjoining the 20-acre Bollinger parcel.
In his report on the proposed rezoning, Mr. Gugel said development around the property has changed the character of the neighborhood enough to support the rezoning request. If approved and built, the new homes would be accessed through Emmit Court.
In 2002, the town's commissioners voted to annex roughly 67 acres off North Seton Avenue. However, a petition drive by residents resulted in the annexation being taken to the voters in an April referendum, and it was defeated by a 3-to-1 margin.
Read other news stories related to the Emmitsburg Town Government