From the Desk of Linda Norris - Candidate for County Council at Large
On Mark Long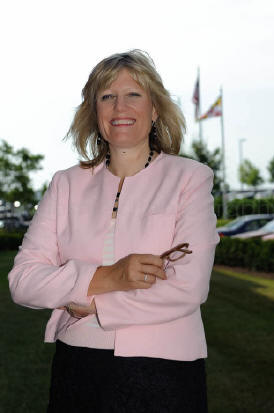 (10/2014) I'm going to use my invited column space this time to compare myself with another candidate---in a positive way – which I think is what people prefer at this point in the campaign!
My friend and fellow candidate Mark Long and I are a lot alike.
We're both businesspeople at heart.
Mark's spent a large part of his work life in small business, working with his father in construction and running his own home-inspection business. I have a small public relations and writing firm (on hold during the campaign!) so I completely get the work 10 hours a day PLUS weekends that small businesspeople grow used to. (Don't let anyone tell you it's a picnic setting your own hours running your own business---the only hours you get to set are the ones you sleep, and those are a necessary evil that takes you away from focusing on your business!!
We're both green at heart.
That's how Mark and I first met, sitting next to each other at a green building forum put on by Mark Lancaster of Lancaster Builders to become more connected with that new trend for his homebuilding business. I was there to learn about Mark's company's perspective for a Green-blog I was writing for the Frederick News Post. We continued to run into each other at Green Drinks, a networking event for businesspeople interested in sustainable businesses .We both saw the possibilities for being good stewards of our land and water, and using our businesses to do good.
We're both North County people at heart.
Mark's credentials far surpass mine because he is born and raised in the North County. I arrived in Mountaindale in 1987 and lived there (a short time in Frederick County years) until 2012, when I crossed Gambrill Mountain and moved to Harmony near Myersville. But we both know that the North County has never had its fair share of attention (friends of mine were amazed at how early my girls had to get up to ride the school bus; the fiercely independent towns of Thurmont and Emmitsburg uncomplainingly provided many of their own services such as the Upcounty Family Center and the Senior Center, as examples. I know when I knocked on doors in Sabillasville four years ago (I haven't gotten there yet this campaign) people told me they had NEVER seen a politician, elected or campaigning, in their neighborhood!)
We both love working with volunteers!
I think Mark and I have some of the most vibrant volunteer teams in the Council races. I see his team working hard to knock doors, wave signs and put on events for him. I have a 15-member volunteer committee that works tirelessly to help me with all the things that need done---and we have such a great time doing it!
We're both serious and thoughtful.
In all my times knocking doors, attending forums and events with Mark, I notice he's a lot like me. We're not showy, life-of-the-party types; we're the ones who listen carefully, think hard, and are always there when you need someone you can count on. I think that's the type of people we need in our new Council, by the way; people who aren't out to get attention for issues or particular agendas, but just want to do our homework, be fair and listen to the residents of Frederick County.
I hope you'll vote for both of us in the upcoming election on November 4t. . We would be a great district-at large North County team for you!
To learn more about Linda Norris visit her campaign website at www.lindanorrisforcouncil.com
Read other articles related to Frederick County 2014 Election