True Happiness in the Painting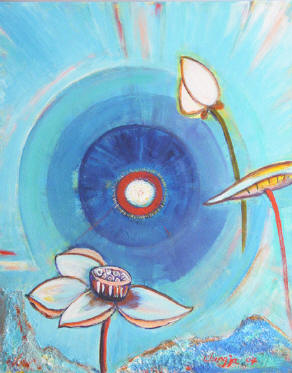 For Korean born painter Chungja Moon, who now makes her home in Harrisburg, PA, but who exhibits her work internationally, art is both a personal response and an open invitation. Each of her paintings are created in response to the artist's deeply personal experience through Buddhist mediation, reflecting what one art critic said was her ability to "paint the world that is not sensed by human sensory organs." However intensely personal her experience may be though, Chungja Moon's intention is also to share it as widely as possible through her paintings. "I would like to share life energy and do mediation together with my viewer to get true happiness through peace of mind," she says. "Let us see the purity and essence of the object [of her art] from the midst of the dirt of earthly life."
A rare mid-state opportunity to share the artistic experience of Chungja Moon will be provided when an exhibition of her latest work opens at Americas' Arts Gallery, 57 Chambersburg Street in Gettysburg, PA, on First Friday, November 5th. An Opening Reception for Chungja Moon will be held that evening from 6:00 until 9:00 p.m., to which the public is invited to attend.
New York Art Critic, Ed McCormack, called Chungja Moon "one of our foremost modern visionares," when referring to a solo show of her work in New York City's Amerasia Bank Gallery. Moon, who has enjoyed twenty solo shows in as many years between New York, Paris, and Seoul, moved to Harrisburg, Pennsylvania this past summer. Her solo show at Americas' Arts gallery began to take shape more than a year and a half ago, when she visited the gallery for the first time. "Basically, Chungja Moon chose me," says gallery owner Larry Knutson. "She attended several shows we had and then indicated she would like us to show her work. I am deeply honored to exhibit such a fine artist, and I have been very pleased to spend time discussing both her work and her meditation practices." Her show at Americas' Arts will run through December 31st, which will then be followed by her next New York show at the Ward-Nasse Gallery in Soho.
Both Moon's art and life reflect her desire to study light, energy, and the human spiritual world as an unsubstantial world between the earth and universe. Seoul art critic, Hang-Seup Sin describes Chungja Moon as "a mystic or a physicist who abstracts the beauty that appears in phenomena and its relations. She is simply a messenger of beauty."
Moon, who paints in either acrylic or watercolor, was classically trained in Oriental ink painting. In addition, she studied for several years with Leo Manso at the Art Students League in New York City. Her Expressionist style shares a close kinship with artists such as Vincent Van Gogh, yet her work has also been described (again by New York's McCormack) as reminiscent of Czechoslovakian painter Franz Kupka.

Americas' Arts gallery develops and manages the art exhibits at the Blue Parrot Bistro. Americas' Arts gallery is located at 57 Chambersburg Street in Gettysburg.
For further information about current or future exhibitions, contact gallery owner Larry Knutson at (717)-337-9070 or via email americasarts@hotmail.com.
Learn more about the Americas' Arts Gallery in Gettysburg