From the Desk of County Orphans' Court Judge Candidate John Norman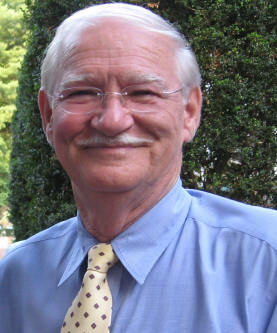 Frederick County Orphans' Court Judge John Norman, appointed by Governor Martin O'Malley to fill a vacant seat, will run for that seat in the September primary.
"I was honored, said Judge Norman, that the Governor had the confidence in my dedication to public service, and commitment to the best interests of our citizens to entrust me with such an important responsibility."
"If elected, I will continue that service with the diligence, integrity, and respect for this court that is expected by the people of Maryland." John Norman
"John Norman is a tremendous asset to the Maryland Orphan's Court of Frederick County. His knowledge of the law, commitment to the court system, and unfailing diligence is serving the people of Frederick County well." Delegate Galen Clagett, 3A
About Judge Norman
Born in Baltimore Maryland in November of 1936, he served in the US Marine Corps from 1953 to 1958.
Judge Norman is a 20 year resident of Frederick County, and traces his roots in Maryland back to the original settlers of the state. He lives in Frederick City with his wife Gail Mesa Norman, where they have both been active in the political and community life of the city. They are the parents of seven children, twenty-one grandchildren and five great-grand children.
As a community activist, citizen advocate, and non-profit volunteer, Judge Norman has a long recognized history of service on behalf of the homeless and economically deprived. He sees his position on the Orphans' Court as an opportunity to continue that service, ensuring that an individual's last wishes are protected, and carried out with the dignity they deserve.
Judge Norman has provided both volunteer and professional services to organizations which include: the Community for Creative Non-Violence, Ministries for Christian Life Endeavors; Frederick Advocates for the Homeless, House of Ruth, homeless veterans groups, and just recently the Sugarloaf Chapter of the Ninety-Nines, a non-profit organization promoting and funding careers in aviation for women. He has also been an active supporter of Fredericks's law enforcement community and served on the Sherriff's Citizen's Advisory Committee.
Judge Norman is a participating member of the Maryland Association of Judges of the Orphans' Court (MAJOC), the association that provides ongoing training for Orphans' Court Judges to ensure they are current with all relevant laws. "At a recent session, he says, we were informed of the way criminals ingratiate their way into the lives of the aged, lonely and sick in order to manipulate their way into wills and inheritances." "I see it as one of my major responsibilities to be a watchdog for these victims of the worst kind of deceit." The Orphans' Court also has concurrent jurisdiction with the Circuit Court in the guardianship of minors and their property."
Judge Norman's background also includes attendance at Montgomery College, and various professional and trade schools. His professional background includes: Project Manager, for King and Associates Professional Engineers; Senior Vice President for Special Projects, Architectural Design Consultants; Senior Field Engineer, Engineering Design Group; and Retired Coordinator, Facilities Management & Construction, Jefferson County Schools, West Virginia.
With decades of experience as a contract administrator, negotiator, and conflict mediator Judge Norman believes his attention to detail, along with his compassion and human relations skills make him particularly qualified to continue his service as Judge of the Orphans' Court.
About the Orphans' Court
Judges are not required to be lawyers and across the state the Orphans' Court is generally made up of lay persons. The Orphans' Court presides over all matters pertaining to guardianships, wills, and probate, and has functioned since the 1800's as part of a non-attorney judiciary system.
"The position is not political" said Judge Norman, a registered Democrat. "The Orphans' Court sets no policy and makes no political decisions, and as such I will not be running a political campaign. However, I will run an information campaign to help inform the public about the Orphans' Court. My fear is that when voters do not understand a position on the ballot they will just vote for a D or an R. Since we are voting for individuals who will be making critical decisions about our property, I hope voters will take the time to educate themselves on both the Orphans' Court and the candidates for Judge of the Orphans' Court. This really is the one office that at some point will affect all our lives on a very personal level!