From the Desk of Board of Education Candidate

Brad Young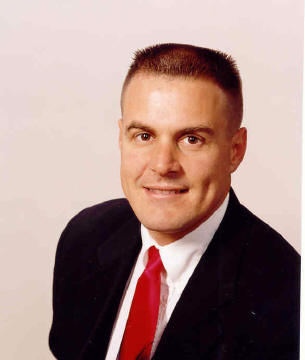 Iím seeking your support for the Frederick County Board of Education. I am running for the Board because I am a strong advocate of education and because the next several years are going to be very tough budget years. We need people with financial and educational background on the board to see us through these tough times and make sure our tax dollars are spent where they count most to our kids! I believe that I am one of the people that are suited well for that role!
I am a Certified Financial Planner, CFP as well as a Certified Trust and Financial Adviser, CTFA. I own and operate my own financial planning practice in Frederick. I worked in local banking over 15 years before starting Maryland Financial Planners 10 years ago. I hold an MBA from Frostburg, a B.A. from the University of Maryland at College Park in Economics and an A.A. from Frederick Community College. Throughout my career I have been very active in the educational system teaching Junior Achievement at Thomas Johnson High School for over 10 years and advising the Academy of Finance at the Career and Technology Center in Frederick for over 10 years. I teach on the adjunct faculty of Mount Saint Maryís University teaching Corporate Finance. I served 15 years on the board of Frederick Community College. During that time I was appointed by three different Maryland Governors. I also served on the state board of Community College Trustees (MACC). I served 6 years on the executive board of MACC including serving as Chair. I served 6 years on the National Association of Community College Trustees, (ACCT) including serving as its chair. I currently serve on the advisory board of the Universities at Shady Grove. It is a satellite campus for Maryland Higher education schools located in Rockville. I taught Sunday school at Evangelical Reformed United Church of Christ for 8 years. I have also coached softball, soccer and basketball for many years. I am currently the Varsity softball coach at Walkersville High School. I believe my extensive participation in the educational process combined with my financial knowledge and experience uniquely qualifies me for the Board of Education.
I am a product of Frederick County Schools. Both of my parents started as teachers and instilled the value of education and community service to me. My wife and I have 3 daughters who have all gone through Frederick County Public Schools. My oldest is now a registered nurse at Frederick Memorial Hospital, my middle daughter is in her second year at FCC, and the youngest is a senior at Walkersville High School. I have been very active with their education and in the schools a lot throughout their education. This involvement also gives me the parent prospective of how our schools work.
I want the leadership of FCPS to be much more open to parental; teacher, school support staff and community input into how are schools are run and the curriculum that we use. We have to move beyond educational arrogance and get back to letting teachers teach in our schools. We have to make sure that our facilities are up to date and that no matter where you live in the county you get equal treatment. Much more attention and funds needs to be committed to updating and maintaining our facilities and not as much money spent on glamorous buildings. Schools are about educating and it is not necessary to build show cases to get a good education. I went through North Frederick Elementary in class rooms that were four painted cinder block walls with good teachers and an environment that fostered respect. FCPS is a good school system, but it needs new leadership to make sure it continues to stay on top while improving those areas that need improvement. I believe that I can provide that leadership!
I have a website which is www.youngforboe.com and can be reached by email at FCPSYOUNG@aol.com. I appreciate your consideration and ask for your vote!
Read position papers of other candidates running in the 2010 primary